I love speaking at events, running workshops and seminars. It's my opportunity to share what inspires me and what I've spent my life discovering, learning and mastering. If you would like to collaborate and engage with me to speak at one of your events, please email with dates and details!
Witches on Water — Spring Day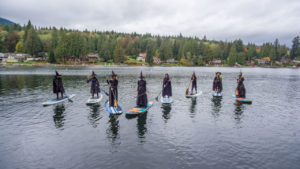 To celebrate all that is and has been 'WOMAN', come and join me for a momentous (and totally fun) morning of Witches on Water at Lake Burley Griffin in the Parliamentary Triangle on the even of the Spring Equinox – Sunday September 22nd 2019.
About Witches on Water
This Spring will be the first of a series of Witches on Water events. Kate Pamphilon, founder of Holistic by Nature and Witches on Water is a local complementary medicine practitioner who runs a variety of events, courses and workshops. Each Witches on Water event aims to bring the community together through the common goal of positive visibility for women and girls.
Why a Witch?
Historically, witches across Europe and North America were healers, herbalists, energy workers and midwives. They were an integral and honoured part of the community. Then in one of the worst eras in history, those in power in government, the church, the upper class, the university system and, in particular patriarchy, took a very dark turn and attempted to wipe witches out and burn them to the ground. Those in power began to create stories whereby the witch was painted as evil, dark, ugly or scary. During this time many innocent women and healers were killed and vilified as the image of a witch became an image of nightmares.
However, witches weren't wiped out. We still exist today much in the same way we always have — as healers, herbalists and midwives. Yet, even today there's still fear around using the term 'witch' despite its original meaning of Wise Woman; a woman in her power.
If you look hard enough, you'll still find covens or gatherings of witches around the world. You'll still find communities that turn to and honour their healers. The Witch and her history is part of our history as women.
Let's reclaim the witch by making her visible
Let's reclaim the word WITCH and the language around her. Let's reclaim the image of the witch as one that is colourful, powerful, light and dark. Let's reclaim the skills of the witch and all that she does for the community. And most of all — let's come together as the women of Canberra to celebrate our skills, our power, our diversity and our love for each other and our earth.
The eve of the Spring Equinox
Sunday September 22nd falls on the eve of the Spring Equinox when there is an equal length of time in day and night hours. An equinox is an astronomical event that happens twice a year. During the Spring or Autumn Equinox, the tilt of the Earth's axis is inclined neither away from nor towards the sun.
The Spring Equinox represents new growth, renewal and rejuvenation and new light both in nature and within each of us. What a perfect time to gather together and set intentions for our growth.
Australian Women's Day fundraising
This year marks Australia's second Australian Women's Day (AWD), Sunday 22nd of September!
First and foremost it's a day of celebration. A day to say ''You're amazing'' to the women and girls in your life. It's a day to imagine the kind of Australia you want to be living in the future and to work toward creating that future. Kate will be gathering any donations you would like to contribute to AWD.
So grab a SUP, kayak or small boat, call your girlfriends, mothers, sisters and daughters! Don a witches hat, cloak or any other image that calls to the witch in you and meet me in front of the flags at Lake Burley Griffin.
And don't worry — if you're not keen to hop on the water, we're also holding a picnic on the lawns in front of the National Library to eat, drink, share and cackle. You may even meet some of our local healers, herbalists and midwives (witches).
DETAILS:
When: Sunday 22nd September 2019
Where:
Water event: In front of the International Flags by Lake Burley Griffin (Parliamentary Triangle)
Picnic event: On the grass in front of the National Library
Time: 10am -12pm
Cost: Free — please email me  or register at the Eventbrite page (free) if you're coming along so I can track numbers and keep you updated
What to bring:
a SUP board, kayak or small boat (that meets Lake Burley Griffin water regulations)
Water bottle
Lifejackets are recommended
Wear your best witchy outfit!
Food to share if you're attending the picnic gathering
If you would like, a donation to raise money for the Australian Women's Day movement
Contact for more information: email me, Kate Pamphilon from Holistic by Nature
Witches on Water and Holistic by Nature acknowledges the traditional owners of Australia. We recognise that the land was never ceded and we pay our respect to Elders past, present and future.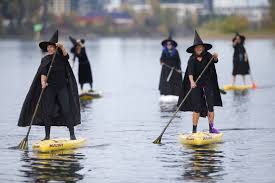 Witches on Water is inspired by an event held last year in Portland, Oregon (image above source)  and Bellingham, Washinton (first image source The Bellingham Herald) where hundreds of witches standup paddleboarded along waters in both locations.